TERRACE BUILDINGS
The terrace is a place of relaxation for the whole family. Take care of its appearance and functionality with us.
The terrace is a place of relaxation for you and your family, which is why it is extremely important to combine its functionality with an original appearance. The terrace buildings, whether glass or aluminum, will allow you to use it 365 days a year, and thus will be an additional space for rest. The canopy is an element that will protect against rain or sunlight. The terraces are of course equipped with green plants or garden furniture. When creating terraces, we use not only glass and aluminum, but also wood, which is a natural material pleasant to use.
In the arrangement of terraces, we attach importance to creating a space that will respond to your needs and expectations, so that you can enjoy it for years. Our advisors help you choose materials and systems that will be tailored to the nature of your home or apartment. Our structures are resistant to frost, moisture and UV radiation. The terrace buildings are an ideal way to functionally and aesthetically separate the private space.
As part of our offer, we arrange, among others:
Terrace buildings

Windbreaks

Terraces canopies

Winter gardens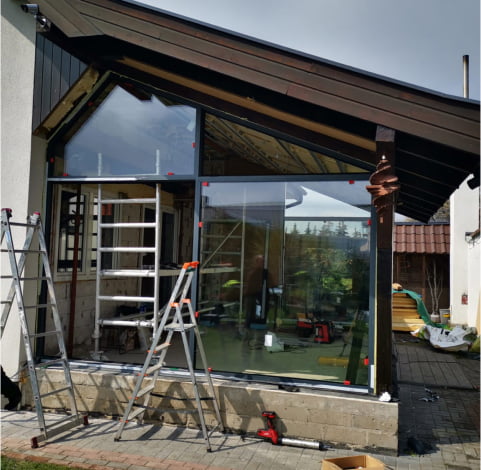 Thanks to the robust construction and high quality care, our customers enjoy the comfort and usability of their terraces.
your dream partner
Build anything you want with us